21 Promises for the Weary Wife
Many women enter into marriage with an understanding that both her life and her very person is going to change. Men don't necessarily expect these changes for themselves. The result can feel like civil war.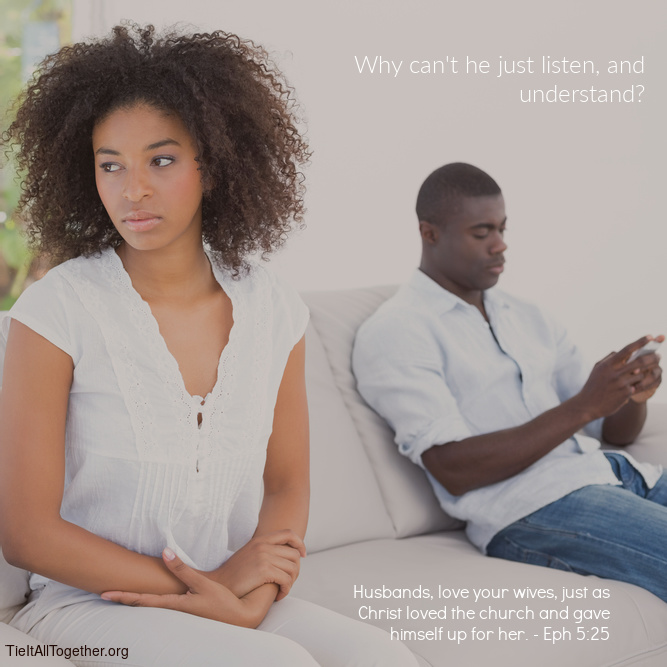 I was one of those women who expected to change when I became a wife. I expected to learn how to please my husband in the kitchen, in the bedroom, and in the bank. That is, I expected to learn and grow my homemaking skills, to build strong emotional and physical intimacy between us, and to be wise in generating and stewarding our finances. As a young bride, I thought my goal as his wife was to make him happy, and in return, he would do the same for me.
My groom wasn't thinking this at all. Men tend to enter into marriage thinking they will never have to change. After all, he got the girl. He's thinking, "she loves me, I must be perfect just the way I am". And he probably was the perfect gentleman; an excellent, adoring boyfriend.
Now here you are some three, seven, eleven years later and…
What's transpired? We transition from the woman he associates primarily with recreation, leisure, and passion, to the woman who now expects a certain level of responsibility and accountability. Before we married, we'd get together to share experiences. We found excitement in being together. We found affection, love, and admiration. The only responsibility and accountability in that was being where he said he was going to be when he said he was going to be there!
After marriage, it suddenly matters that he doesn't use a laundry hamper. Now, his love for me is associated with whether or not he picks up his dirty clothes and wet towel after showering because I've shared how much it bothers me when I find them on the floor. When he stops at the store to grab a bottle of deodorant for himself but doesn't think about picking up a new leave-in conditioner for me (even though it is on the shopping list posted on the fridge), I now interpret it as him not even thinking of (cherishing) me. And, the $1,000 Alembic wood bass guitar he finds at the local pawn shop—though it is an absolute steal—becomes a symbol of rejection nullifying my feelings and my opinion, because it was purchased with money we didn't have in the budget, and without a conversation with me.
My, how his life has changed!
Can we really blame him for resisting the change? Or maybe he's not actually resisting change; maybe he is just having a hard time understanding just how comprehensive and far reaching "to love and to cherish" really is.
In the meantime, we as wives experience a plethora of conflicting feelings. We believe we are changing for the betterment of the marriage, and we are frustrated trying to figure out "why won't he?" If we aren't careful we can find ourselves tangled up in feelings of resentment, bitterness, hostility, and disrespect. We may even internalize what seems to us like his unwillingness to change; we begin to believe that he doesn't value us, or that our feelings don't matter to him. Everything becomes a measure of his love—the unwashed plate in the sink, the decision to grab a drink with the band after rehearsal—I started keeping a record that reinforced my feelings. Have you? Then we subconsciously start to believe that he doesn't even love us, and boy what a pandora's box that is! Once that creeps into your mind, it is so much easier to deal with him in a disrespectful, unloving, and demanding way.
And so my first admonishment is, wives 'guard your heart, for everything you do flows from it' (Proverbs 4:23). Second, just as we have to be settled in our faith that God loves us and He is for us regardless of all else going on in our lives, we have to be settled in our hearts that our husband loves us, and is for us—he just doesn't (yet) know how to translate that to everyday life.
You may feel like you've been waiting for your husband to change far longer than it should take for him to figure this husband thing out. You may, like me, feel like you know what he should be as a husband. You, like me, can not change your husband; only God can. And really, isn't that the change we'd rather live with? When God does it, it will be perfect and complete (Phil 1:6)—real heart change always is.
So, here are a few promises from the scriptures in which I have found comfort, strength, and hope as I waited. To the weary wives hoping against all hope for a better marriage relationship, it's not too much to ask for or expect. God is able. He is willing, and He is faithful.
Such hope [in God's promises] never disappoints us, because God's love has been abundantly poured out within our hearts through the Holy Spirit who was given to us. —Romans 5:5 (AMP)
Trust in the Lord with all your heart, lean not on your own understanding. In all your ways acknowledge Him and He shall direct your paths. —Proverbs 3:5-6
God is our refuge and strength, a helper who is always found in times of trouble. —Psalm 46:1
He said to me, "My grace is sufficient for you, for my power is made perfect in weakness." Therefore, I will boast all the more gladly about my weaknesses, so that Christ's power may rest on me. —2 Corinthians 12:9 (NIV)
"Come to Me, all of you who are weary and burdened, and I will give you rest. All of you, take up My yoke and learn from Me, because I am gentle and humble in heart, and you will find rest…For My yoke is easy and My burden is light." — Matthew 11:28-30.
The Lord is not slow in keeping his promise, as some understand slowness. Instead He is patient with you, not wanting anyone to perish, but everyone to come to repentance. —2 Peter 3:9 (NIV)
Wait for and confidently expect the Lord; Be strong and let your heart take courage; Yes, wait for and confidently expect the Lord. —Psalm 27:14
No one who hopes in You will ever be put to shame, but shame will come on those who are treacherous without cause. —Psalm 25:3 (NIV)
He gives strength to the weary and strengthens the powerless. —Isaiah 40:29 (HCSB)
but those who wait for [who expect, and hope in Him] shall change and renew their strength and power; they shall lift their wings and mount up [close to God] as eagles [mount up to the sun]; they shall run and not be weary, they shall walk and not faint or become tired. —Isaiah 40:31 (AMPC)
I waited patiently for the Lord; and He inclined to me, and heard my cry. He also brought me up out of a horrible pit, out of the miry clay, and set my feet upon a rock, and established my steps. He has put a new song in my mouth—praise to our God; many will see it and fear and will trust in the Lord. —Psalm 40:1-3
But You, Lord, are a shield around me, My glory, and the One who lifts my head high. I call out to the Lord, and He answers me from His holy mountain —Psalm 3:3-4 (NIV)
As for you brothers and sisters, do not get tired of doing what is right. — 2 Thessalonians 3:13 (NIV) Because…
When a man's ways please the Lord, He makes even his enemies to be at peace with him. —Proverbs 16:7 (ESV).
NOTE: Your spouse is NOT your enemy. I simply reference this scripture because if God can make our enemies have a favorable and peaceful disposition toward us, how much more can He change the heart of our husband?
And the effect of righteousness will be peace, and the result of righteousness will be quietness and confident trust forever. —Isaiah 32:17
Consider it pure joy, my brothers and sisters, whenever you face trials of many kinds, because you know that the testing of your faith produces perseverance. Let perseverance finish its work so that you may be mature and complete, not lacking anything. —James 1:2-4 (NIV)
Let us not become weary in doing good, for at the proper time we will reap a harvest if we do not give up. —Galatians 6:9 (NIV)
You number my wanderings; put my tears into Your bottle; are they not in Your book? When I cry out to You, then my enemies will turn back; this I know, because God is for me. —Psalm 56:8-9
With men, this is impossible, but with God all things are possible. —Matthew 19:26
"Whatever you bind on earth will be bound in heaven, and whatever you loose on earth will be loosed in heaven. —Matthew 18:18
But all things are of God, who reconciled us to himself through Christ, and gave unto us the ministry of reconciliation; — 2 Corinthians 5:18
Behold, I will do a new thing; now shall it spring forth; shall ye not know it? I will even make a way in the wilderness, and rivers in the desert. —Isaiah 43:19
We can not change our spouse. We can only love him, fulfill our God given role, and look to God to change his heart. We mustn't internalize their inability to meet our needs to mean that we don't deserve what we desire, or that they don't love or value us. It requires immense trust in God's faithfulness and a strong fortitude to wait on Him to complete His work in our husband. Your husband may not seem to be getting it; keep praying, keep trusting, keep loving. God will make him over, and He'll do it in that jaw-dropping, only God, way that He does.