6 Steps for Conquering Negative Thoughts
The mind is not only a terrible thing to waste; it's also a terrible thing to contend with.
Did you know that it only takes a few seconds for a presented thought to pass through the filter of your belief system and influence your emotions? When satan offers negative thoughts, we have the choice to accept them or reject them and replace them with truth.  II Corinthians 10:5 says: 
Casting down imaginations, and every high thing that exalts itself against the knowledge of God, and bringing into captivity every thought to the obedience of Christ; (KJV)
  In those seconds immediately following satan's invitation to entertain negativity, we can cast down any thought that doesn't line up with what God has already said.  Any thought that is contrary to what you know to be true, as supported by His word, should be immediately captured and brought into agreement with His word.  How do we do this? God, in His faithfulness, has given us Philippians 4:8  as themes for our thinking:
Whatsoever things are true, whatsoever things are honest, whatsoever things are just, whatsoever things are pure, whatsoever things are lovely, whatsoever things are of good report; if there be any virtue or praise, think on these things. (KJV)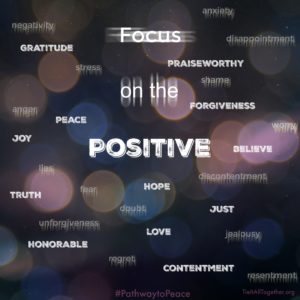 Paul teaches us to focus on the positive!  A positive mind creates positive emotions.  So find a whatsoever thought and focus on it.  When you find yourself in a season of difficulty and you just can't muster up one positive thing…the Word works!  The word of God is the absolute truth (true).  It is based on truth and honorable intentions (honest); it's upright and righteous (just).  It is uncontaminated and inerrant (pure).  God's word is a love letter that attracts and cultivates love (lovely).  His word reminds us of His strength and power, of His grace, his ways and victories (good report and praiseworthy).  It teaches moral excellence (virtue).   We can think about the word of God continuously, in every situation.
 When satan bombards my mind with negative thoughts, my self-talk is far too eager to run with it!  When this happens, discouragement ensues.  But there is hope and help for me, and for anyone who struggles with negativity, or has a tendency to process every event and situation through a filter of pessimism.  We can successfully do what Paul instructs in Ephesians 4:23 and renew our minds.  The amplified bible reads:
 And be constantly renewed in the spirit of your mind [having a fresh spiritual and mental attitude].
 So what exactly does that look like? 
Acknowledge the feeling and identify the negative thought

Confront the lie it represents

Reject the lie and push the thought out of your mind

Replace the lie with the truth, the Scriptures

Confess/Pray God's word in the situation and meditate on the truth

Choose to act on the truth
 Let's try it together:
You wake up tired, on a cloudy day in which you have to face some unlikeable event, and you're immediately presented with the idea that today is going to be a terrible day.  You can drag yourself out of bed already feeling grumpy and proceed to experience quite a terrible day or you can:  1) Acknowledge the feeling:  you are sleepy and physically tired.  Acknowledge the thought: 'It's going to be a bad day because you're tired, it's cloudy, and you have a budget meeting at noon.  2) Confront the lie:  'Today, stress, impatience and frustration are inevitable because I have to meet with a difficult team to discuss a project budget that is bursting at the seams.  Even the weatherman describes the day as overcast. I can't possibly feel joy on a day like today'.      3)  Reject the lie and cast it out (Jude 1:9, James 4:7, 2 Cor 10:5):  Satan you are a liar.  The Lord rebuke you! I am not going to have a bad day.    4)  Replace the lie with truth: This is the day that the Lord has made, I will rejoice and be glad in it (Psalm 118:24).  The Lord is my strength and my shield; my heart trusts in Him, and I am helped (Psalm 28:7).  My grace is sufficient for you (2 Cor 12:9).    5) Confess the word:  Lord I thank you for this day you've made and purposed for your glory, I will-I purposely choose to rejoice and be glad in it.  God, thank you for your grace and supernatural strength and favor to do what I need to do this day.  You are my shield. You are my help.  I ask for your help, Lord.  Help me to overcome the negative thoughts and emotions that are threatening to overtake me.  Help me to walk in the light of your promises. Give me your joy, make my meeting productive and give me wisdom for the best solution.  In Jesus Name.  6)  Get up and be intentional about your thoughts.  Apply God's truth and perspective to every person and every situation you encounter.  Perhaps you play your favorite praise and worship playlist all morning.  Take a prayer pitstop before that meeting to get your mind right and invite the power of the Holy Spirit to drive the results.  You will likely even have to draw on further biblical truths as the day continues, for this is a part of renewing your mind.
 When the enemy attacks your mind, it's not enough to just stop the thoughts and try to push them out.  You absolutely have to replace them with God's truth, otherwise, the negative thoughts will just come back, and may even bring along a few more.  The entire process can feel tiring; discouragement stands by as you remain preoccupied with negative thoughts and feelings.  At times, I have felt hopeless as though I will always struggle to have the mind of Christ.  Renewing your mind may feel like a mirage because the enemy is so relentless and persistent in his attack.  But thank God that, He is our hope and our help.  The power of God's Spirit is in us and helps us gain the victory in this area.
 Do you struggle with negative thinking?  What has helped you overcome negativity?