Comforted to be a comfort
In a matter of mouse clicks we have the chance to empathize with a woman who's entire future was changed when her fiancé was unjustly killed right before her eyes, in the presence of their child. Or in a five-second radio drop, we can experience great sadness and compassion as we visualize the chaos left by a lone gunman who raced through a crowd of innocent civilians. A quick look at the evening news, and we can accept the invitation to pass judgment and criticize the character of our next potential executive in chief. The opportunities to experience a flurry of emotions seems infinite, but the fact that it's on TV, radio, or the internet gives it a little distance. It's easier to tuck it away out of mind; to avoid feeling the burden to engage. But what happens when it's a little closer to home?
What do you do when a family member is struggling through a financial crisis, a friend's marriage is in trouble, or your bestie's having to endure the slander of their character, questioning of their integrity, and a handful of other complications resulting from the actions of someone who is actually better suited for the very suffering they've caused. How do you support someone you love who's struggling through a long and difficult crisis?
I've been watching my dear friend go through a long, emotionally pressing situation. Her test has been going on for quite some time now, and as Murphy's law would have it, there have been a number of other trials, stressors, and inconveniences occurring along the way. Recently, I sat with her and just listened as she talked through the emotions of trying to stay strong for her teen, yet feeling unable to really provide the protection that a mother's heart desperately desires to provide for her children.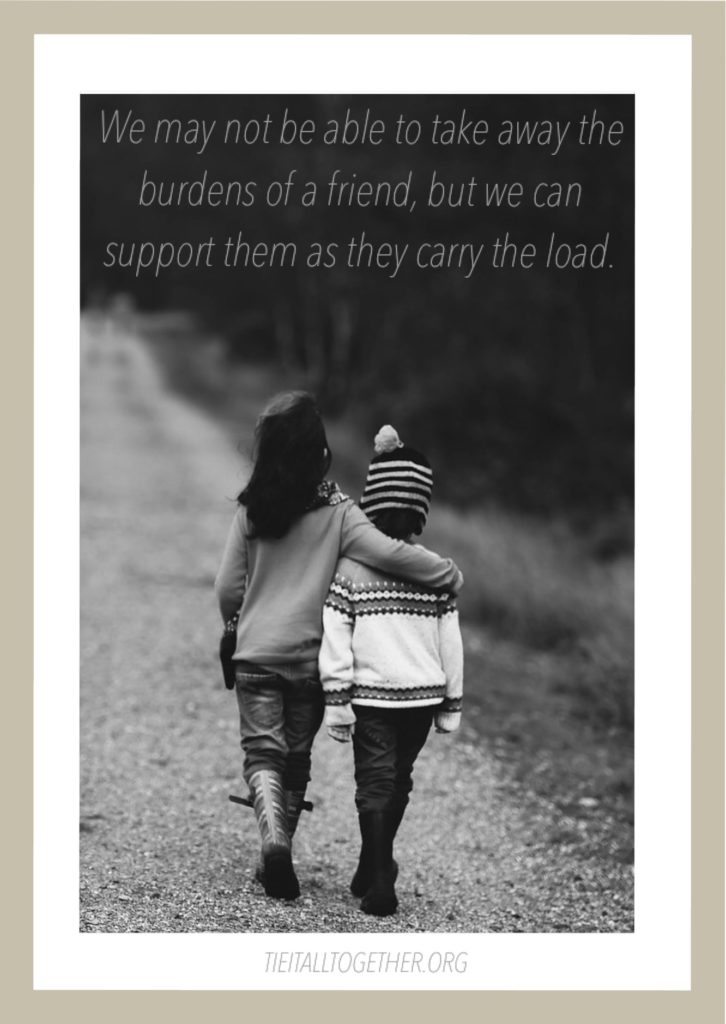 I empathized with her deeply. In my heart, I felt the weight of her words. I wanted to lift it all away for her, but couldn't. The feeling of powerlessness has been overwhelming…and I'm just trying to support her as she goes through it!
When she's down, I try to encourage her with the truth of God's word. I remind her of His promises when she gets too low. I express my faith intensely in hopes that it will strengthen hers. I want her to know as certainly as I know that God is in complete control of every part of her situation. I want her to know that they will come through this stronger, better, and more secure. I want to trade my faith and confidence for her weariness.
Here is where God reminds: How did I get this faith and strength that I stand so sure in as I try to cheer her through? He takes me on a quick stroll through my highlight reel. My worst days flash across the movie screen of my mind, and I feel enlightened as I remember the comfort of the Holy Spirit as I lay curled on the floor alone with my pain. I remember the 'phone-a-friend lifeline' call I made to my spiritual Dad in which all I could do was dial the number, barely able to say hello when he picked up. I recall the song of the chirping bird that quieted the sea of negative thoughts overwhelming me as I sat under the window in my bedroom. Yes, I see Lord. It is during these exceedingly painful times that we have the opportunity to experience the God of all comfort. In 2 Corinthians 1:3, the translation for comfort is paraklesis which means a calling for, or summons. He, Himself responds to our cries for help. He wraps us in His arms and shelters us from the elements. He quiets our mind, mends our broken heart, and calms our fears. His presence brings peace and confidence in knowing that He is with us. Not only is He the God of all comfort, but only He is savior and deliverer. I can not rescue my friend from her troubles, but I can reflect on how I received God's comfort and the support of my friends when I struggled through a tough trial.
And so, God helps me to address my own feelings of helplessness as I desperately seek to support my girl. From a practical standpoint, I can be for her what helped me through; a shoulder to cry on, a listening ear, arms to lean on for a little reprieve. I will be a voice of hope and reason when the crazy tries to takeover. But mostly, I will be standing in the gap praying for my friend to experience God's comfort. Knowing that what I needed most during the darkness was to keep a hold on the light, I also pray that her faith will be strengthened. As Jesus prayed for Peter that his faith wouldn't fail him, I will pray this for my friend.
When you find yourself wanting to swoop in and save someone you care about from their troubles, remember that God is not only your deliverer but theirs too. He never meant for us to save anyone. That is solely His job. II Corinthians 1:3-4 says that God is the Father of sympathy, and of every comfort. It is He who comforts us in times of affliction, and He does so in order that we can turn around and provide that same comfort to others in their time of need. Standing in the gap for a friend in need through prayer is exercising the greatest power we have to change their situation. In the meantime, it is right to just be there with them. Listening when they need to talk. Sharing in their tears when a good cry comes on. Holding them when they need a shoulder to lean into.
Partnering with the Holy Spirit in intercession for a friend in need may feel like less than enough, but it is actually the greatest help of all.