Making Sense of Suffering
Focus on your growth, instead of your pain.
During seasons of suffering, it is so difficult to make things make sense. Especially when the suffering is not a direct result of your own choices. Suffering through the consequences of your own bad decisions is painful enough, but we can make sense of that; but when situations and circumstances befall you for reasons outside of your control–outside of your circle of influence. You are hurting, yet feel powerless to stop the pain–powerless to change the situation. When you are suffering hardship, heartbreak, or the like, the temptation is to allow it to steal your hope or dampen your faith.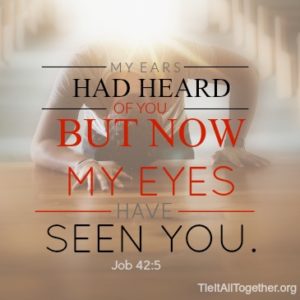 My encouragement to you in the midst of your suffering is to really understand that God does love you and His love is not mean and vindictive. He means you well. My point: don't blame Him for whatever it is. Don't turn from him—run to Him. Second, you have to remind yourself constantly, until it becomes the core of your belief that He sees you and He is with you in your place of pain. He's not just able to sympathize with your suffering because of what He went through on the cross for you. No, He can feel your pain because He's with you in it right now! Third, practice giving less and less focus to your feelings, and begin to look diligently and desperately for Jesus. Remember, He is with you; so then, tweak your focus so that you begin to recognize Him. I didn't know Jesus as my mind regulator until I nearly had a breakdown. Yes, there was a licensed, faith-based, therapist involved, but the Holy Spirit was working through her and in me to pull me back from the brink of destruction. Similarly, I knew of Jehovah-Jireh–the Lord who provides at a head-knowledge level; I'd read about Him in Genesis 22. I didn't get to know Him personally, though, until I had to experience Him as my provision, and my absolute source during the dot-com implosion. Look for God in the midst of your suffering and come to know Him more deeply as a result.
There is purpose in your pain, my friend, and that purpose may not be immediately clear because the reality is that pain does cast a pretty dark shadow. Look for the light, and go after it. Be cautious not to interpret 'purpose in your pain' to mean you should expect some grand call to ministry, some elaborate business idea, some big leadership initiative, or whatever else many pastors, teachers, speakers, authors, or entertainers might testify of. That is likely to come, but don't let that be your goal. You aren't going through what you are going through solely to help someone else or to clarify your assignment in life. While that may be revealed, the immediate purpose for our pain is a deeper relationship: to recognize and get to know God in new, deeper, and more personal ways. Because truth be told, you will need to know Him like that to become what (and who) He desires you to be.
As you are getting to know Him and trust Him in new ways, He is changing you on the inside. He will be taking away some self-sabotaging tendency, breaking some spiritual bondage, giving freedom, replacing fear and doubt with confidence and clarity, or strengthening your faith and tenacity. All the while, you just think you are hurting when you are actually growing. You mistakenly believe that you are just a spiritual weakling, struggling yet again. No, my friend. You are so much more than that, and you are doing so much more than even in your struggling. You are making the transition. Transformation is taking place. It truly is amazing, and it's exciting stuff WHEN you get through the pain. I emphasize when because there is no if. YOU WILL GET THROUGH IT.
God Our Refuge
1 God, you're such a safe and powerful place to find refuge!
You're a proven help in time of trouble—
more than enough and always available whenever I need you.
2 So we will never fear
even if every structure of support[b] were to crumble away.
We will not fear even when the earth quakes and shakes,
moving mountains and casting them into the sea.
3 For the raging roar of stormy winds and crashing waves
cannot erode our faith in you.
Pause in his presence

—Psalm 46:1-3 (The Passion Translation)