How to Fill the Endless Need for Security, Success, Status and Stuff
Have you ever felt that life has left you with more questions than answers? Asking yourself is there more to life than this? Or "I just want to be happy!"? What about this one, "I will be satisfied when…"? But then satisfied never actually comes, even after "when" does.
There is a vacuum at the epicenter of the human heart that creates a constant longing for more.  Even the world's least sophisticated marketers understand this incessant craving present within each and every one of us.  From the wealthiest among us to the most impoverished, this need resides at the seat of everything our heart desires.  The truth is that there is only one plug capable of sealing that vacuum.
The need is for significance.  Yes, we all share at the core of our being, a need to feel loved, desired, and like we matter and our lives have meaning.  You have likely tried the common plugs. They are so good at posing as the real thing that millions have grasped at them for relief from the constant craving for more.  The craving to obtain that one ideal that will make everything worthwhile.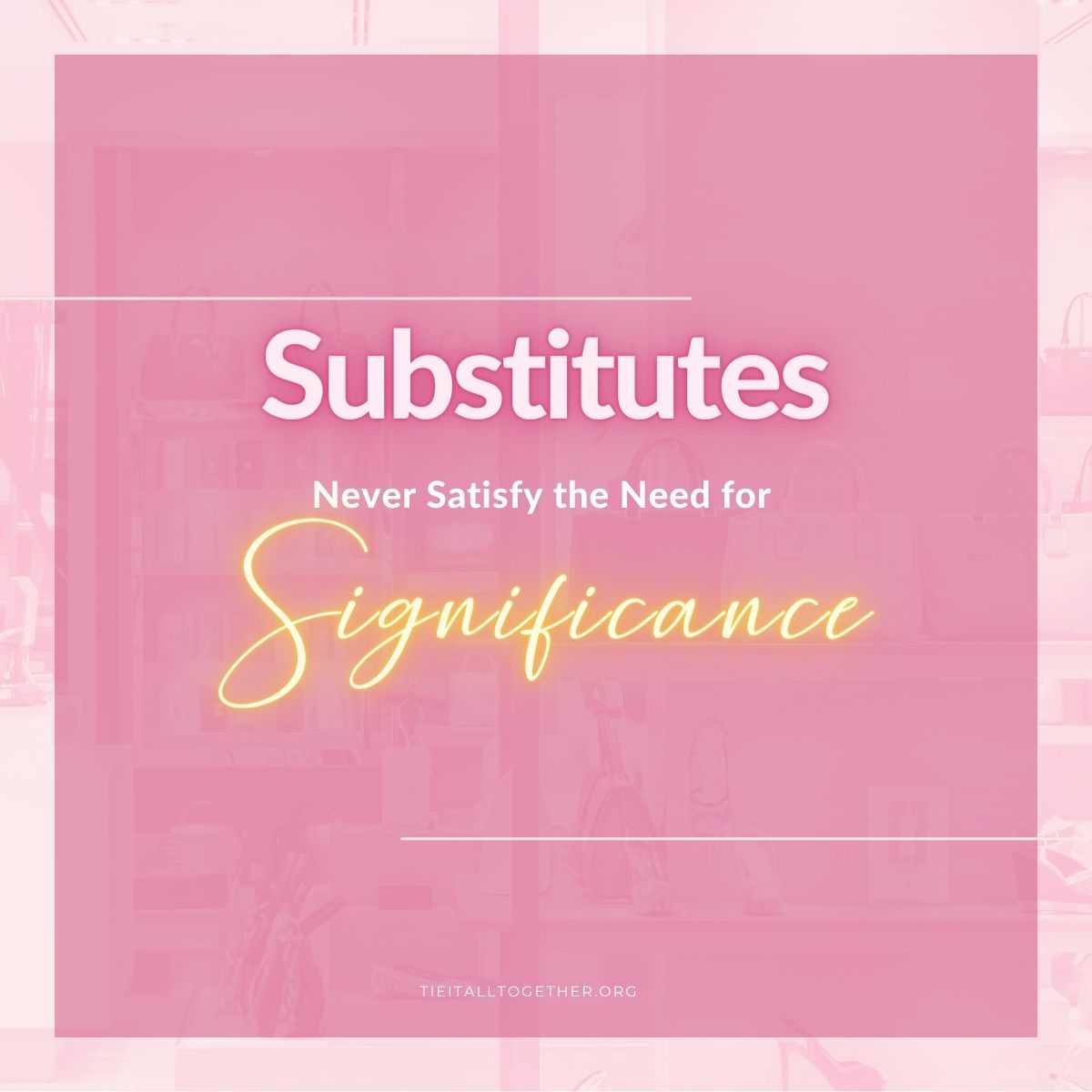 Most common among us are what I like to call the imposters: Acceptance and Belonging.  They practice deception pretending to be capable of fulfilling our need.  The need to feel accepted and like we belong is real, and we were designed to have such a need!  You are not wrong for wanting to feel accepted.  You're not wrong for wanting to feel like you matter and are actually desired by another.  The damage, however, is suffered when we rely on acceptance and belonging from other flawed, fickle, and equally needy people to fulfill this deep-seated need within our own heart.  When you shape your personality, habits, decision-making, and other behaviors based on the acceptance of others, you fail to develop your true identity.  When you fashion your person and lifestyle to fit into a group or class, or status of people in order to feel significant, influential, or experience a sense of meaning and purpose, you short-circuit your true purpose and find yourself grasping for more of the things that won't seal the vacuum within.  How can you ever expect to feel wholeness and fulfillment if you can't even be (or worse don't even know) who you truly are? 
Next, we have the deceivers to contend with.  They do an excellent job appearing to be more than enough to keep you happy.  They attempt to persuade you that they will satisfy your hearts desire:  Ambition and Greed.  The drive to achieve high levels of success (or status) in order to feel whole, or to feel loved can lead to a number of devastating outcomes, habits and even addictions.  There is no level of success, status, or material possessions that can fulfill your need for security.  Under influence of ambition and/or greed, your life choices are so driven by never needing help from someone, or by proving yourself, your ability, or your worth to someone that once again, you become stifled in developing your true authentic self and fail to fulfill your real role in the world.
Regardless of which substitute you may have tried, only the true, unconditional love of God can fulfill our need for significance.  
Do this short exercise:  Close your eyes.  Take a deep breath.  Now, Imagine living from a position of knowing that you are deeply loved by someone who knows you intimately and accepts you unquestionably.  Imagine building other relationships, engaging in your work, and feeling secure in everything you do.  Imagine living free from the nagging feeling that something is still missing.  
What would your life look like if you lived fully from that place of unconditional love and complete acceptance of who you are? 
You can live the rest of your life from that exact position, found in the heart and arms of God.
To do so, there are some fundamental truths you have to settle for yourself first:
God is love.  Young folks say, "periodt."  My dad use to always say, "period, point, blank."  In both cases the meaning is the same:  Whatever was just said is all there is to say on the matter.  There is no argument.  No debate.   Finality is the implication.   God has spent over two thousand years, given us a sixty-six book love letter, and gave up His only Son, Jesus, to demonstrate His love for you.  God is love, periodt (1 John 4:8). The heart-wrenching truth, however, is that God's people have too often been the stumbling block to those who refuse to believe that God's love is good, useful, or even necessary. And this is where I say, would you burn all your money because your dad was rich but he was so stingy and hateful and never used his money for good? Yeah, I didn't think so. Everyone who claims to know God, love God and be God's isn't exactly the best re-presentation of God. Don't let people separate you from you the only one who can plug that vacuum in your soul.
God made you (Genesis 1:26-27): He personally formed you with His own hands.  You are hand-crafted by God, the Master—that makes you a Masterpiece.  He patterned you after Himself—making you like Him.  The Bible says, "in His image and likeness".  Children often look like their parents, taking on external features.  Parents are often 'tickled' when they recognize facets of their own personality displayed in their children's personality.  Similarly, you  carry external and internal attributes of God because He is your Father, and you are His child.  He also carefully hand-crafted you to experience emotions, process thoughts, and possess abilities and passions that align directly with the value you are destined to add to this world.
God breathed life into you (Genesis 2:7): "…breathed into his nostrils the breath (spirit) of life; and man became a living soul".  The Hebrew word for breath "neshamah" means vital breath, divine inspiration, intellect.  God literally put Himself inside of you, and it is His life that gives you life.  It is also the very thing that makes you so valuable.  God lives in you.  His intellect, His inspiration – you have access to it all, and this makes your mind limitless, your creativity boundless, and your ability to produce great things absolutely possible.
God set His affection on you (I John4:9-10): "the love of God was displayed where we are concerned: in that God sent His Son, His only, unique son, into the world so that we might live through Him.  In this is love: not that we loved God, but that He (first) loved us and sent His Son to be the atoning sacrifice for our sins".  God's love for you is so deep and so strong that He wouldn't withhold the most precious and most valuable thing if it meant not having you—His son's life in exchange for you.  That is a sacrificial love!  That is a commitment to you and your life as you have never experienced and can never find anywhere else.   The most mind-blowing truth about the depth, breadth, and width of God's love is that it has absolutely nothing to do with your brilliance, behavior, personality, strengths, talents or abilities.  The magnitude of His love doesn't depend on your choices, your values, or influence.  And it sure does not depend on what someone else has done to you or said of you.  The magnitude of His love for you is based solely on the truth that you are His!  He made you, He put himself in you, He gave His son to pay the absolute price required to close the gap that sin/disobedience put between you.
God poured out His love in your heart (Romans 5:5): …through the Holy Spirit, whom He has given you at the time you entrust Him with your life. You can rest assured in God's love because He Himself has poured it out into your heart.
Can you believe these truths?  Close your eyes and allow it to wash over you.  What pulled at your heart, or made that bulb light up your mind as you read it?  I encourage you to make a note and refer to this truth every day for the next week.
Recall your longing to feel loved, accepted, to feel safe.
Reflect on your desire to feel good enough, rich enough, known enough…to feel whole and fulfilled.
Consider that place of want and desperation that is constantly seeking more.
That vacuum was created for God—no amount of worldly fame or success, material possessions, or thrills will fill your need for more—more meaning—more life—more significance. He is the only one in whom you can find a love that over flows with acceptance, safety and security, consistency and faithfulness. His love overflows with fullness and abundance. His love is yours. Will you accept it?
One of the major struggles I faced in accepting God's total unconditional love was truly understanding that I didn't have to earn it.  I didn't have to be perfect.  That I could still make mistakes and be just as loved by Him as if I had never messed up once.  
If you'd like to ask Jesus into your heart, pray this simple prayer. By doing so, the gap, caused by sin, that separates you from God will be closed and you can know the love of God for yourself. Ready?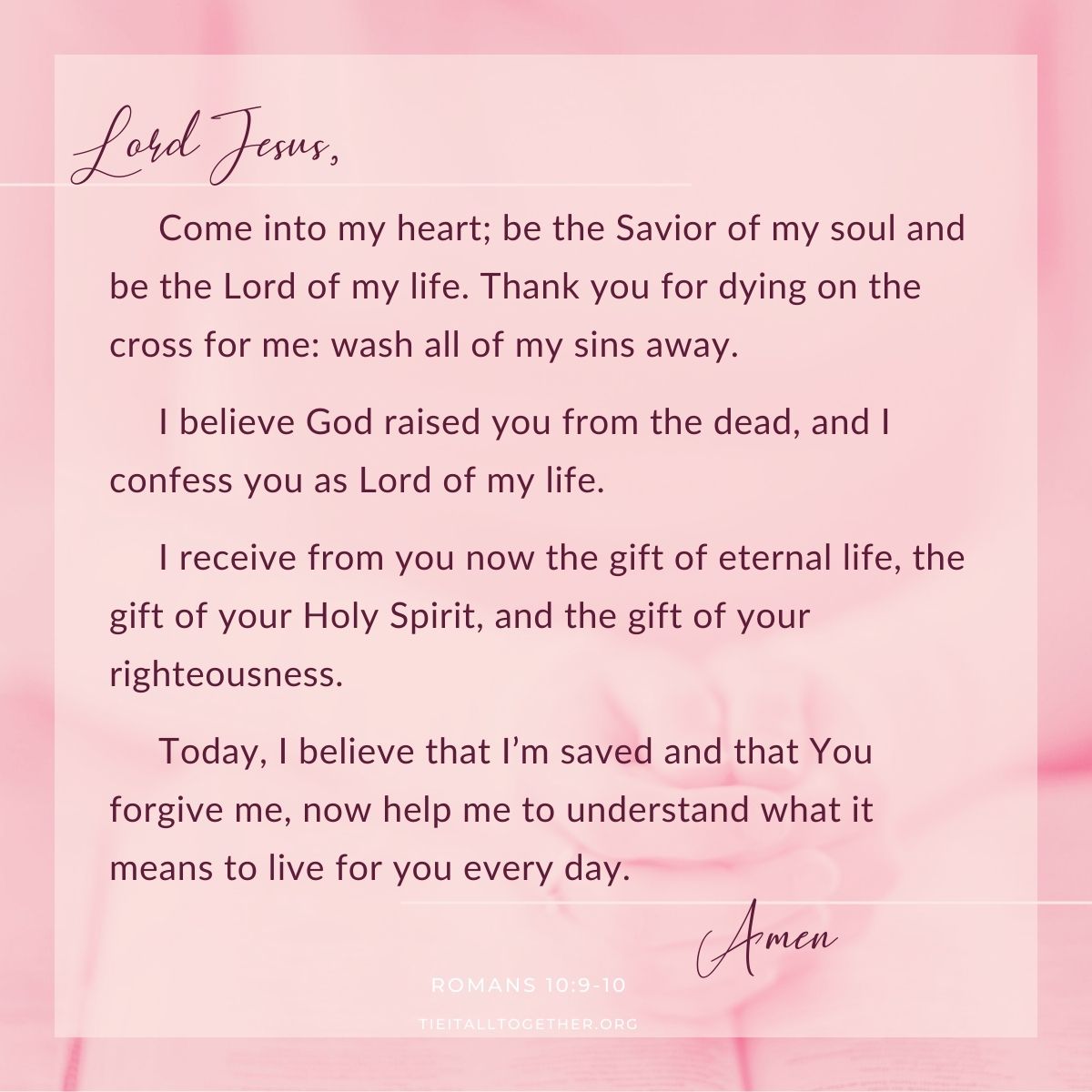 Lord Jesus, come into my heart. Be the savior of my soul and be the Lord of my life. Thank you for dying on the cross for me, wash all of my sins away. I believe God raised you from the dead, and I confess you as Lord of my life. I receive from you now the gift of eternal life, the gift of your Holy Spirit, and the gift of your righteousness. Today, I believe that I'm saved and that You forgive me, now help me to understand what it means to live for you every day. Amen. (Romans 10:9-10)
Welcome to the family of God!  Welcome back into the arms of your loving gracious God.  Send me an email at LaWanda@tieitalltogether.org and share the news!
Just like it takes time to grow and develop relationships with others, it takes time, attention, and intention to grow closer to God.  Surround yourself with bible believing, Holy Spirit-led followers of Christ.  Spend time reading and studying the bible, praying, and worshipping God.  My prayer is that God meets you in your place of understanding and at your place need and gives you the answers, the healing, the guidance that you need.  Take a look around the blog for posts on prayer, fasting, scripture reading and memorization…and don't ever hesitate to reach out to me through email, comments or social media!  We are family!  A community knit together by His love.  Be encouraged.  Be blessed.