It is the enemy of productivity, often keeping me stuck.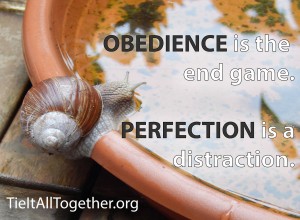 It exposes a heart that still struggles to rely on God.
It reveals a spirit of excellence that is vulnerable to contamination by pride.
If I am going to do this, it's got to be done right.  "Whatever you do, do it as unto the Lord"…It is serious business for me that I represent my Father well.  I'm not interested in producing a perfect effort.  I want to produce a perfect outcome!
Sounds noble, right?
Yes, it pleases God when we work at everything we do with a spirit of excellence.  He loves that I work with a desire to please Him.  He appreciates that I want to make Him look good.   But He also knows me down to my core; pleasing God hasn't always been the motive for my striving.  Even as I've worked diligently to bring this blog to life, I've had to constantly refocus on the bottom line.  God told me to do this, and I need to just do it.  It's easy for me to hide behind my scriptures, and try to put a holy spin on my tendency towards striving for perfection.  Truth is, God doesn't require me to be perfect, He requires me to be holy!
So I put forth my best effort, focus on doing what God asks of me, and I trust Him with the rest.
Denouncing perfection, I avoid:
Doubt and Fear.  This destructive duo almost always visits at the same.  They say "are you sure this is what God meant?  You can't do it.  You aren't that great at writing.  You don't have anything important to say.  No one will read it."  Doubt and fear cause paralysis.
Comparison.  The opportunities to compare are endless. Comparison quenches passion and authenticity.
People-pleasing.  The temptation to try to figure out what people expect, or to make everyone happy constantly knocks at the door.  Looking away from the masses, and focusing on the Master helps to ignore that knock.
Pride.  Striving for perfection almost always has its root in preserving self-image.  It says I am fully capable, I am perfect.  Humility acknowledges that my sufficiency comes from Christ, and He alone makes me worthy and able.  He is the giver of every good and perfect gift; the goal is to use it for His glory.
Frustration.  It's the thermometer that reminds me to remember my assignment.  Am I trying to do too much?  Am I trying to do too much, too soon?  What is required of me right now?  Frustration chokes out all creativity.  When it bubbles up, table the task at hand, step back (or away),and reassess the goal.
Delay.  Striving for perfection results in delay at the very least, and abandonment at the very worst.  My best may not be perfect, but it's good enough.
Say it with me, "I don't have to be perfect, I just have to be willing".  Obedience is the end game.  Perfection is the distraction.
By one sacrifice–by Jesus' obedience–He is making you perfect.  There is liberty in knowing that God honors your effort, and makes up the difference!  So, that thing God's put in your heart to do – go on.  Just do it!