5 Habits for Promoting Oneness in Marriage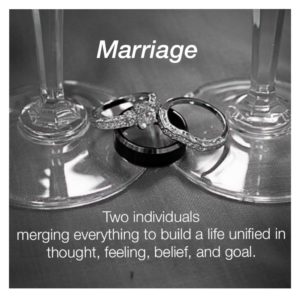 "What God has put together, let no man, woman, boy, girl, he, she, it, no-thing…put asunder!" declared the reverend as he pronounced us husband and wife.
There I stood, completely in love with my handsome night in shining armor. A light wave of laughter rolled across the church. My Father-in-love co-officiated my wedding ceremony. When he made his very light-hearted, yet heavy-weight charge that nothing be able to separate what God had joined together, I didn't fully grasp or understand the magnitude of his statement. I had no idea that every word spoken, every charge given, and every blessing prayed throughout the course of our ceremony had provided a divinely inspired covering that would be much needed in the years ahead. My thought was, "we are now husband and wife…happily ever after, here we come!"
Married in our mid-twenties, TJ and I were still settling into our own identities as young adults. This afforded us a number of areas to 'grow through' together. I married him because I loved him, and he made me happy. Love and happiness. It was simple. Or it was until I figured out that our life together had become about bringing together two individuals, from two different backgrounds, exposed to different cultures, having different experiences, and merging everything to build a life unified in thought, feeling, belief, and goal. That is, becoming one. THAT, my friend, is not so simple.
Contrary to what I believed, God's primary concern was not about TJ making me happy. He desires for us to be happy, but the end goal for our lives is the same as it was for Jesus' —to live a life that glorifies and leads others to God. I don't know about you, but that was the furthest thing from my mind when I glided towards the alter in my fairytale princess gown.
From the moment we say 'I do', our responsibility is to become one. How do two individuals having a few similarities, and tons of differences achieve that end? Allow me to share a few elements vital to our growth toward oneness in marriage:
1) Pray with One Another, not Just For One Another. Individual prayer is still important, but praying together as a couple is a game changer. It seems obvious that couples should do this, but many of us don't. As much as I liked the idea of praying everyday with my husband, it takes courage, persistence, and patience to put into practice. Praying together allows us to hear and come along side our mates in their own areas of concern, struggle, or aspiration. It allows them to hear our prayers, our support, and our heart for them as we intercede for them. It also requires humility, and vulnerability, both of which promote intimacy with one another, and cultivate a greater dependency on God. Best of all, it's an instant reconciliation tool. Imagine how difficult it is to have a two or three day fight when you are meeting each other in prayer at night!
2) Spend Time Together. It sounds like a no brainer; after all, we get married because we want to be with the love of our life as much as possible. It's amazing how quickly we drop dating in the list of priorities after marriage. How easy is it to put in a few extra hours at the office everyday? Being involved at church can creep into the time needed for nurturing family relationships, especially if you are in ministry leadership. It's very tempting to give God's work inside the church priority over God's work inside our homes. Another big one, especially for new parents, is children. It's like some unwritten rule that when children are born, they trump the relationship that brought them into the world in the first place! As they get older, the pull doesn't diminish. Having very active teens, TJ and I are in the heat of this struggle for quality time right now!
Things will come up to draw us away from our mates. It won't always be an extramarital relationship that breaks the bond, but it will always be something that causes us to chase after progress in that area while eroding the connection and level of intimacy we share with our spouse. It's hard to grow apart, when you make the effort to experience life together. Never stop courting your spouse.
3) Spend Time Apart. Have interests and friendships apart from one another. Maintaining your own individual interest helps each spouse to preserve their sense of identity, and helps the relationship to remain balanced. This reduces the risk of marital strain that results when an unhealthy level of dependence is created, especially if it's just from one spouse onto the other. I'm not saying that your husband shouldn't be your best friend. I'm saying make sure he isn't your only friend! Another thing that has minimized drama in our relationship is the general absence of opposite sex friendships. That's not to say we don't have friends of the other sex; those relationships just typically became a part of the other spouses' relationships as well.
4) Talk About It. Communication is just one of those things that we all think we are good at, but fail miserably to execute in marriage. Couple that with conflict resolution skills (or lack thereof), and you have the perfect ingredients for spontaneous combustion at any moment!
It is too easy to overlook offenses—not really forgiving your mate, but not communicating your emotions either. This is dangerous. Stuffing your feelings will always lead to an explosive confrontation. Even worse, what about holding a grudge or looking for an opportunity to retaliate? Yes, I'm still talking about marriage. Be honest…Even in the best of marriages, our homes can feel more like a war zone than a safe haven.
Pray first, which doesn't have to be an overnight, or even an hour long process. Just check in with God: admit what you're feeling and why, identify your proposed solution, acknowledge that you may not get the desired response, and be willing to accept that if it doesn't go your way, you need to remain godly. Before I could plead with God to help me win the fight (don't play holy, you know you've done it too), I had to be ready deal rightly with my husband, and afford him the opportunity to do the same.
Sometimes the problem isn't even with your spouse: a bad day at the office, a struggle with the children, the delayed onset soreness from your leg day workout (is that just me?), or perhaps the Lord is dealing with you in an area (when God is refining me, I am highly sensitive and slightly irritable). When this is the case, talk to your man about it — at the very least, put him on notice that you might be short and snippy, but it's not him, it you (smile).
5) Be Intimate Often and Openly Affectionate. Gone is the day when talking sex in the church means talking about what not to do! Sexual intimacy is a gift from God, and he created our physical bodies with an inordinate amount of care and detail to promote pleasurable physical intimacy between husband and wife. When God brought Adam and Eve together, he commanded them to "be fruitful and multiply". This includes enjoying sexual intimacy together! SEX IS FOR US! It pleases God that we are vested in pleasing and enjoying one another, and it keeps us connected. Physical intimacy not only meets a physical need, but it also supports strong spiritual and emotional intimacy between husband and wife. Unwrap that gift! Be Intimate Often.
Another aspect of that spectrum is showing affection. When I say openly, I don't mean groping one another in public, embarrassing the children, and making others uncomfortable. I am talking about those soft touches —sometimes sexual, most of the time not. Non-sexual touches include those gentle rubs on the leg, the shoulders, or the neck, etc. Holding hands, sharing a hug, a quick snuggle under the neck; these things affirm your mate, and keep you connected. When I told my husband what his hand in the bridge of my back does for me, he was absolutely floored. I love when we are walking, or standing, side-by-side, and he gently rests his hand on my lower back. It speaks of strength and support – it makes me feel protected. It's the unspoken recital of his commitment and love for me. Yes…all of that, from a touch in my back! Go ahead, think of ways can you show your baby some love!
This is not an exhaustive list by far, but these are five major influences impacting the growth and oneness that TJ and I have experienced in marriage. Once we learned that oneness was the goal, we could shift our focus from our own needs, to one another, and work together to create a marriage that reflects the unity originally intended by God. We've had to learn sacrifice, compromise, submission, and forgiveness. Building a good marriage is a process. We can all be successful by stepping up to the challenges that arise, and growing through them together.
Think about your marriage, and consider how making oneness the main thing could benefit the relationship you share with your husband. When the going gets tough, the temptation is to turn inward, against each other, or to isolate from one another. That's the enemy's plan for your marriage. Be vigilant in pursuing God's plan…Oneness. I love being married, and I (now) value those seasons of struggle and misery as the strengthening of our relationship and our identity together as one. My deepest and sincerest prayers as you pursue oneness in your own marriage.
Be blessed.