SUMMONED: How Do I Discover My Purpose? (Part 2)
Have you ever wondered how to fill your life with more of what makes your heart sing, fuels your soul and energizes you? I wanted my days to start with excited anticipation instead of anxiety and dread. I wanted by days to be filled with purpose instead of the mundane. I felt like I would be having more fun if my daily grind resulted in the more meaningful rather than the inconsequential.
It is so easy to be drawn to celebrity. Even beyond the athlete, actor, and entertainer. Men, women, boys, and girls are turning to social media daily to entertain, influence, and impact others. Let me assure you, you don't have to chase celebrity to influence others and impact the world. Finding and filling your calling will place you smack dab in the middle of your influence and your impact.
So how then do you discover your purpose and fulfill your life's calling?  
Well, let's start by clarifying a slight distinction between purpose and calling. Purpose is a broader term referencing what you were put on this earth to do. As a believer in Christ, we all share the general purpose to glorify God with our lives. How does your life reflect the love, power, and renown of God? More specifically, we are to impact the lives of others, also for God's glory. How is someone's life better for having interacted with you?
Where we get ourselves all in a knot is in discovering HOW we are to fulfill our purpose. THAT is your calling. I've always been an encourager and a people helper, even before I understood what that entailed. At first, I helped others as a human resources professional. Then I served as a spiritual teacher and mentor. Then I became a therapist. And now a life coach. HOW I've fulfilled purpose and served as an encourager and people helper has changed over the course of my life. So as you seek to discover your calling, find peace in knowing it may look different today than it will in the future.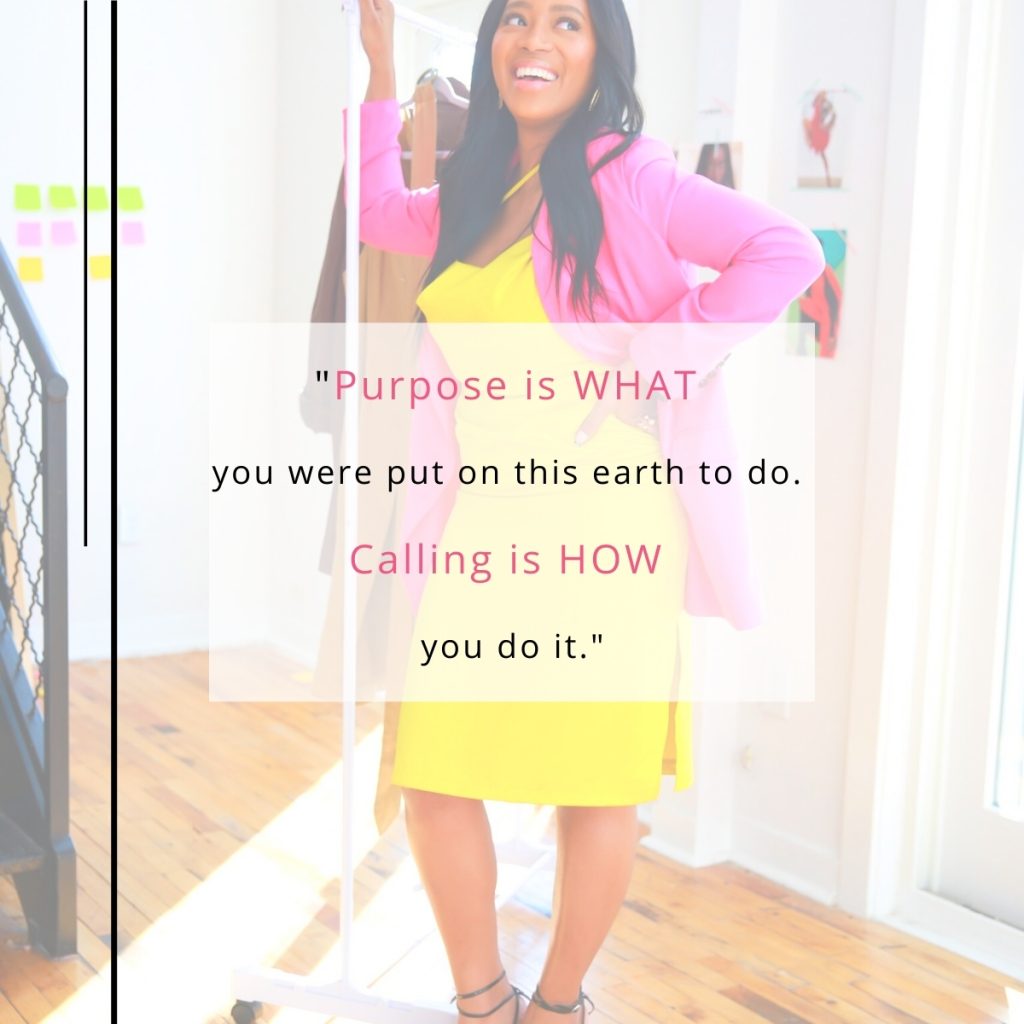 In What Does It Mean to Be Called? I share that a calling is simply an invitation.  When you seek to discover what you should be doing with your life, you are hearing the call into service–the third type of calling.  I submit to you that it is also the highest level of calling because of the degree of responsibility it carries. Whether it's a call into ministry, marketplace, or public service or ability to influence others and impact the lives of other people depends of fulfilling our calling. To discover your calling and gain clarity in it, you have to answer the call.  
This is the thing that is always so challenging for me. It seems like God is always requiring an answer before disclosing the details!
Acknowledge, Respond, and SEEK It Out
From Moses to Samuel to Jeremiah, through Paul and the Apostles we see the call always has to be acknowledged with a response:
Moses saw the burning bush and went to investigate it when God spoke to him. He responded, "here I am." (Exodus 3)
Samuel heard his name being called and ran to his spiritual teacher to respond "here I am," but Eli wasn't the one calling so he helped Samuel answer the call by telling him on how to respond next time he heard his name called (I Samuel 3).
Jeremiah heard the word of Lord telling him that he was set apart and assigned to serve as a prophet to the nations. He responded with some uncertainty about his own ability and authority, but it was a response nonetheless. (Jeremiah 1)
And lastly, one of my favorites, Saul (prior to becoming Apostle Paul) saw a sudden flash of light from heaven, fell to the ground, and heard Jesus call him. His response was, who are you? (Acts 9)
The tug you feel to discover purpose and live with meaning and fulfillment is the call. Your response is to acknowledge that you are being called out and called upward! How you answer is by seeking it out. The bible shows us that people respond differently – some with a simple acknowledgment, others with fear, yet others with self-doubt and insecurity. But all of them responded with an open ear for further information. What do I mean by seek it out? This includes seeking God first, as He is the one calling you higher. He is the one who designed you in just the right fashion to fulfill the call. He has the full blueprint. Seek Him out and begin to look and listen for the cues your life is giving you.
Look At Your Divine Design
Begin to pay attention to how you think, feel and make choices. Embarking on this journey of self-discovery and inviting God to help you understand your divine design includes discovering your God-given gifts. Your spiritual gifts, talents, strengths, and abilities are all elements of your unique divine design. To understand purpose and calling, you must know who you are, understand and embrace your divine design. Next, look for the intersection between your divine design and that thing that makes your heart sing, compels you to take action, energizes you even when it's hard, and is something you couldn't not do even if you tried!  There are clues within you!  
How you process feelings and emotions, thoughts and rationale. How you experience the world and the people in it. What you are drawn to or repelled by. What you are passionate about and what frustrates you to no end. What compels you to act. How you learn. How you feel about learning. What you do naturally well with ease, and what you just can't grasp no matter how it's broken down. All of these things make up your divine design. God was intentional. All of these things play a role in how you were hand-crafted to do what you are meant to do in this world.
Leverage Your Life Experience
Your upbringing and background, the skills you've had to develop, master, or even harness! Look at your relationships and examine the reason for which they exist(ed), the outcome and the lessons learned. Look at your educational pursuits—failures and successes. Your job opportunities and experiences. There are indicators everywhere throughout our lives if we just pay attention and begin to ask how does it all fit. We may not have the answers to the why's that often accompany the more unpleasant parts of our experiences, but we can always get to how it impacted us and what we can do to leverage it going forward. The key is to remember, that God can redeem and repurpose every experience, situation, or circumstance for your good, His glory, and in accordance with His plan. He's got a plan, we often need to elevate our thinking and expand our vision to gain his perspective.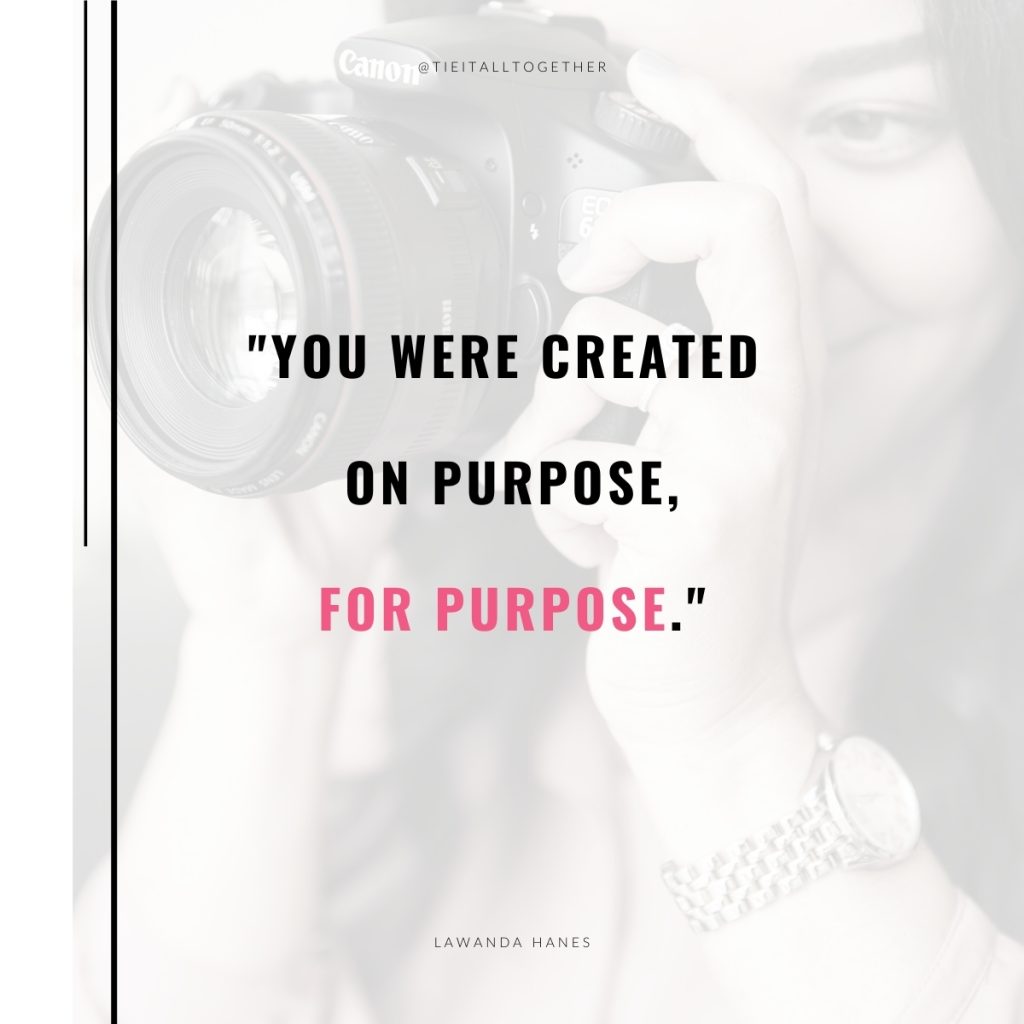 Listen and Receive
In order to fulfill your assignment, it's imperative to remember two things that will help you stay the course—especially when it's no longer fun, shiny and new, but gets difficult and scary.
First, remember you were born for this! Whatever "this" may be for you, fill in the space and repeat it to yourself when you need the reminder. We've already seen it in Ephesians 2:10. You were divinely designed to do what God has called you to do. Even as you are clarifying what exactly it is, you have to settle in your heart and in your mind that He's called you to it and equipped you to do it.
As you listen for your detailed instructions, you have to walk them out. And that requires faith and courage because God rarely gives us the detailed steps and complete picture all at once.
Second, be emboldened by the truth that God empowers you to do what He's called you to do. So while you might have had to build your skill set, or practice, or develop your strengths, it is His power and His presence in you that guarantees your success and your effectiveness.
Receive it! He gives you the authority to be who He designed you to be and do what He has assigned you to do.
So when you are challenged—and you will be. I can hear it now: "How dare you think you can raise the standard for integrity in the office?" Yes, you dare indeed, because God has put you there to do just that, and He's given you the authority to do it.
So, what do you think? Are you ready?
I think you are! Pay attention to the tug you feel in your heart—that voice calling you higher. To a higher level of living. To a higher version of yourself. To fulfill purpose and walk in your calling.
Respond and seek it out.  Ask God, who created you on purpose, for purpose.  Reflect on your divine design, discover your gifts, and evaluate your life experiences in light of God's purpose and plan.  Then keep your eyes locked on his, receive your instructions and walk in the power and authority given to you to fulfill your calling.   
He's put in you everything you need to do what He's asked of you. It's your responsibility to discover, develop and deploy!