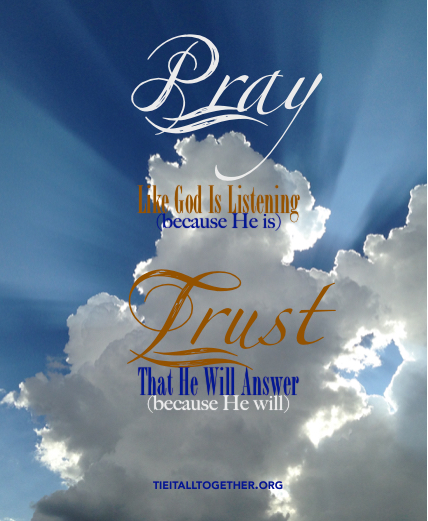 I remember a time when it seemed like I could ask God for the simplest thing, and He would answer almost immediately. Who needs a genie in a bottle when you have the master of all creation at your disposal? Life was good, I could get use to this.
To be honest, I was just a few years into my christian walk when I experienced this instant gratification when praying. It hadn't always been that way, but I was freshly recommitted to knowing God personally, and to know what He had in mind for me. You see, I'd just finished undergrad, and the position I had my eye on felt well within my reach. I'd passed several interview stages, and had even completed the site visit and final interview. Imagine my surprise when they called to say they wouldn't be extending an offer. Can you say devastated? My faith was rocked, and my confidence was practically shattered. 'God, how could you let this happen? What am I supposed to do now?' Grad school, here I come.
Since my plans had been derailed, I was once again feeling lost, and uncertain. It felt terribly familiar to the feeling that led me to salvation in the first place! This time, I sensed God drawing me back into His word. It was time for me to grow deeper in my knowledge and understanding of Him. That is when it happened – I noticed that I was consulting Him about almost everything; large or small. Nothing was off limits. Admittedly, my requests were quite self-centered, and self-serving, mostly. Lord, help me ace this exam. Lord, give me this. Lord, give me that. I remember being late to campus one day and pleading for God to give me a parking spot right at the door. Like a kid in a candy store, I was delighted when I pulled around the corner to find someone backing out just in time for me to park. It was simple, yes, but if you've ever been a commuter student at any university, you know this was a major thing. I was asking about any and everything! And God was right there, answering. Not only was He answering, but He was answering favorably (mostly)!
When we are still young in our faith, God will often reinforce our faith in Him by answering our prayers relatively quickly. When we first become a christian, we feel excited, and hopeful about the change inside of us. We believe that our lives are on the incline because we have committed to letting Jesus drive. Then time happens, and life keeps happening. That job offer never comes. You lose your job. Your child falls sick. You lose a loved one. You still believe in God. You still believe in prayer, but you wonder if He is still listening to yours. Suddenly faith seems hard instead of hopeful.
Well, my friend, that is precisely the time for you to pull up your faith files. It was that season of quick answers to my prayers, that built my faith for the next stage in my walk with Christ. I had to learn to trust Him even when I couldn't see my situation changing. I had to remember that He hears my prayers, then trust His faithfulness even when it seemed there was no answer in sight.
Can you remember a season when you prayed to God and He answered you right away. Think about your walk with Him back then. Think about how your faith was strengthened, and how He was revealing Himself to you. Now, consider how your relationship with Him changed because of those times.
Hebrews 13:8 tells us that Jesus is the same today, tomorrow, and forever. So, if He isn't changing then, you must be! And that is exactly what He wants. He wants us to know Him, His heart toward us, and to trust Him whole-heartedly. There is nothing too small, or too large to pray to Him about. Just remain confident in knowing that when you have prayed, He hears your prayers. I John 5:14-15 always boosts my confidence, because I know my heart's desire is to live in God's will, so my expectation is that my prayers also align with His will. Pray to know His will. Pray in alignment with His will, and then trust that He hears, and is working on your behalf. Just know that when you do ask, His answer will take as long as is necessary for you to know more of Him, and for Him to develop in you the character, the heart, or the maturity necessary to handle what you've asked.